Here is our all numbers matching 1970 Road Runner 440-6, with 88K miles. We found the car in a shed in 1998. It took two trucks and a rollback to haul all of the parts and car back home. The car was completely disassembled for the restoration. We were able to gather a lot of NOS parts, and picked up a load of reproduction parts from Herbís at the Richmond show. Every component has been replaced or restored, along with factory markings and details. We get our best parts from Herbís Parts!! Thanks Herb, Ruth, and Bob from Donnie Sweet & Linda.
Yes, more than happy with my dealings with Herb's Parts. I have had some parts damaged in international post and there was no issue with replacement; I will continue to use your services in the future. I have always received prompt replys to emails, which is very useful considering I am an international customer (it is a shame other companies cannot follow suit). Keep up the good work. I have attached some pics of my car, probably not to pure Mopar enthusiasts' taste but it's a Mopar nonetheless. It has 440 block with 512 stroker kit, Edelbrock heads and manifold, 750 Holley, A833 four-speed, 3.23 gearing, Hotchkis suspension parts, 2" drop spindles, tubular A-arms, 4 wheel Wilwood brakes, 20" x 10" ∧ 18" x 8" Foose Nitrous II's, and Flowmaster 2-1/2" exhaust. Cheers, Aaron Jones from New Zealand.
Greg McInerney of Modewarre, Victoria Australia has one Unique Bird from Down Under -- One of Herb's Parts faithful friends who we like to call Aussie Greg went to extremes to create a 69 Road Runner that is more suited to his homeland of Australia. Greg's Bird is powered by a 440 punched out to 470 Cubes, with 4 2BBL Weber Carbs on a aluminum intake manifold hand-forged by Greg himself, which he has nestled in between aluminum heads. Not only is the engine unique, but look closely at the shot of Greg in the drivers seat; he' sitting on the wrong side!!! Greg also converted this Road Runner to right-hand drive with rack and pinion steering. Greg would like to give a shout out to the photographer, Paul Tamis for the shots. Truly one of the most unique and Badd Azz Road Runners we have ever seen. Good On'Ya Mate!!!, keep the MOPAR Spirit alive Down Under.
Chris Elliot from Peggs, Oklahoma loves his MOPAR Muscle both ways, Old & New. Chris's 69 Dodge Coronet 440/ Superbee is B7 Jubilee Blue and a blue interior, with a 440 bored .030, comp cam 488/274, dual plane performer intake, 850 Holley, and a 727 auto with a 2,800 stall converter, along with a shift kit. He added Classic Air last year and power steering. Chris's 2009 Dodge Challenger SRT-8 was a Father's Day gift from Chris's wife!!! We all need a wife like Chris's, hear that ladies? Brilliant Black Crystal Pearl - 6.1 Hemi 5 speed auto - loaded!
On October 11, 2007, a house fire destroys Mac McNamee's treasured 1970 Dodge Dart Swinger. "Many thanks to you and your wonderful company. None of this would have been possible without your wonderful customer friendliness, your super knowledge and expertise. You had the entire line of products needed to restore everything." ~ Mac & Shirley McNamee, Chambersburg, PA
Keith Adams from East Hanover, NJ loves his new 08-09 Challenger window louvers.
"I called Herb's Parts because of their fair price on the parts I needed. What I didn't expect was their personal service in completing my 68 Charger R/T restoration. Without their help, this car would not be winning car shows and just letting me enjoy it this soon." ~ Jerry Anderson
Glen Brock and his restoration posse from Taylorsville, KY with his Beautiful Butterscotch '69-1/2 Lift Off Hood SIX PACK Super Bee.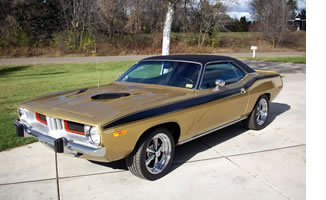 Rod Lucero's smokin' gold & black '72 Cuda in Inver Grove Heights, MN.
Fred Schulz is the original owner of this gold 1969 Road Runner. The car retains all original sheet metal, glass and vinyl top. The all numbers matching engine, transmission and rear end have never been apart. The car still has the original clutch that has never been adjusted! All the original paperwork is still with the car. Even the license plates are the actual plates that were installed by the dealer!